W ostatni piątek 15 września odbyła się jedna z największych konferencji w Anglii poświęcona pozycjonowaniu stron – BrightonSEO. Po wielu pozytywnych recenzjach z poprzednich decyzji, postanowiłem również sprawdzić jak ta konferencja wygląda na żywo.
Bilety
Przed konferencją dostępna jest pula bezpłatnych biletów. Podstawowe bilety są za niewygórowana cenę 100£ (porównując również do polskich konferencji).
Jeśli nie uda się zdobyć bezpłatnych biletów (nam się udało), polecam już od samego początku popytać na grupach SEO czy ktoś nie chce je oddać, liczba oddawanych biletów rośnie im bliżej konferencji.
Transport i nocleg
Do Brighton można dostać się lecąc tanimi liniami lotniczymi do Londynu, koszt biletów średnio to 300 zł. Następnie autobusem (~2h jazdy) lub pociągiem (~1h jazdy) z stacji Victoria Station.
Samo Brighton nie jest duże, bardzo łatwo się tu poruszać zwłaszcza, że działa Uber. Średnia cena noclegu 80£ (my spaliśmy w Britannia Study Hotel i możemy polecić).
Konferencja
Sama konferencja jest bardzo dobrze zorganizowana, pojawiają się na niej prelegenci z całego świata. Wykłady prowadzone są w wielu salach i w wielu kierunkach. Sam poziom wykładów jest na umiarkowanym poziomie zaawansowania, nie mniej z każdej prezentacji zawsze można wynieść coś nowego (piszę to z perspektywy ponad 10 lat w branży, jeśli ktoś ma mniejsze doświadczenie niż 5 lat, na pewno będzie o wiele bardziej zadowolony ode mnie). Obok konferencji odbywa się małe expo z stoiskami firm związanych z SEO, jest to okazja do zdobycia rabatów na narzędzia i poznanie nowych rozwiązań.
Oprócz samej konferencji warto zaznaczyć że warto pojawić się  w celu poznania nowych ludzi i rozszerzenia sieci kontaktów. Dlatego warto przyjechać dzień wcześniej i zostać dzień później (po konferencji jest oficjalne after party).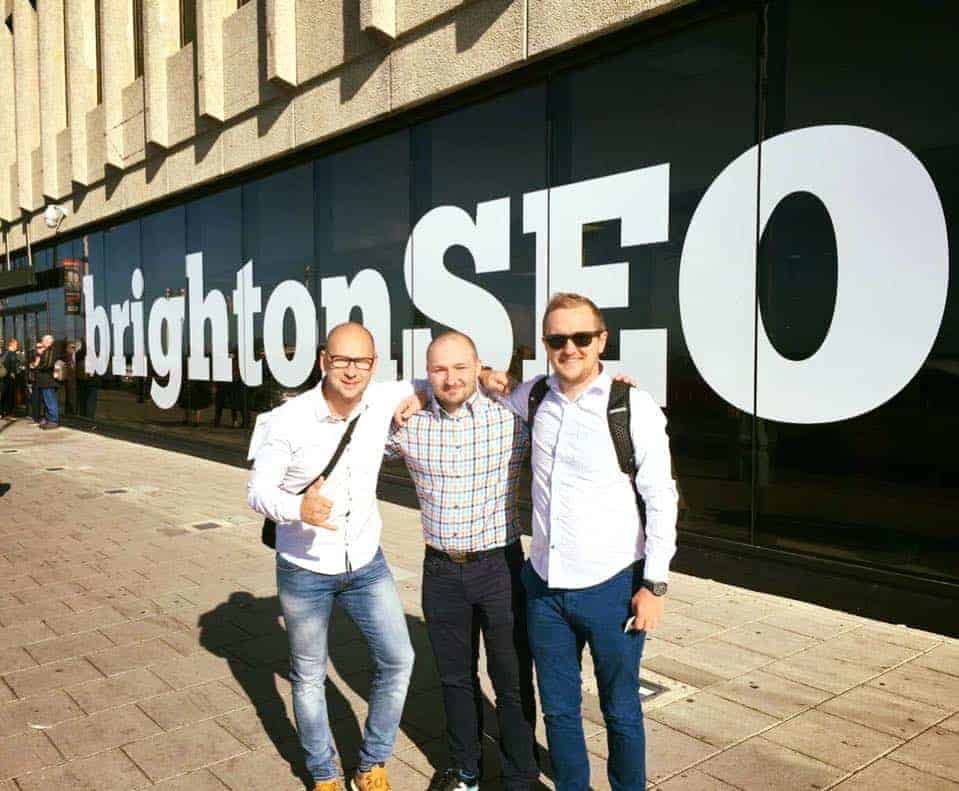 Relacja
Cała relacja z sceny głównej jest dostępna na YT pod adresem: https://youtu.be/LeSozRzol2w Materiały z poszczególnych bloków poniżej.
Fundamentals
Danny Richman – The small tweaks you need to be making to boost your existing rankings
Ric Rodriguez – The SEOs Guide To JavaScript 
Nicole Bullock – Managing Multi-Location Listings in Google My Business
Online PR
Shannon McGuirk – News hooks: what are they and how can you make the most of them in your digital PR and link building strategies?
Sophie Everett – How to package and pitch a story to journalists
Bobbi Brant – How to Get Top Links With an Unknown Brand and No Budget
APIs in Search
Yiğit Konur – Connecting APIs without Coding Skills to Create Your Own Dashboards
Kostas Voudouris – Performance-based optimisation using Google Search Console API
Stephan Solomonidis – Using Natural Language APIs in SEO
Paid Search
Jeroen Maljers – Top 10 AdWords Tactics for B2B Lead Gen Campaigns
Saija Mahon – How to use remarketing tactics to activate and enhance client retention
Anu Adegbola – Excel Formulas PPC professionals need
Affiliate Marketing
Helen Southgate – Affiliate Marketing – what's it all about?
Ranking Factors
Christoph Cemper – Increase your search engine traffic by up to 500% with this simple trick
Jo Turnbull & Daniel Furch – A different perspective on Ranking Factors
Duane Forrester – Markup, User Driven Change and Your Future: Do this today for success tomorrow.
Javascript & Frameworks
Bartosz Góralewicz – Can Google properly crawl and index JavaScript? SEO experiments – results and findings.
Emily Grossman – PWAs and New JS frameworks for Mobile
David Lockie – Using Open Source Software to Speed up your Roadmap
Future of Search
Daniel Rowles – Using Advanced Social Listening Techniques to Drive SEO
Saeley Jnr Johnson – Speak Easy – The rise of Voice Search
Vikas Arora – Psychology of Search
Reputation
Ammon Johns – The Myth of Domain Authority
Myles Anderson – Harnessing your Online Reputation to win New Customers
Ben Harrow – Quality PR Linkbuilding – with Terrible Budget
Advanced Keyword Research
Stacey MacNaught – Tactical, Practical Keyword Research for Today's SEO Campaigns
Sophie Coley – Answering The Public: How To Find Top-Notch Audience Insight in Search Data and How To Apply It
Kelvin Newman – Scary SERPs (and keyword creep)
Influencer Marketing
Allyson Griffiths – Why micro influencers are a knee jerk reaction to poor influencer marketing
Sophie Bishop – Field notes from my PhD on Zoella
Mindy Gofton – Don't Call Me Bae: Are You Engaging or Annoying Your Customers?
On Site
Chloé Bodard – SEO quick wins from a technical check
Sébastien Monnier – How Google Tag Manager can help your SEO
Aysun Akarsu – On The Road to HTTPS Worldwide
Business
Stephan Spencer – How to Hire an Insanely Great SEO
Dorothy Agnew – Surviving the transition to the General Data Protection Regulation
Chris Munch – How to Triple Your Client Close Rate Using The Kings Rule
International
Cécile Monty – International SEO – Optimizing Your Site For a Global Audience
Gemma Nortcliffe – Why International Doesn't Always Mean Multilingual
Gavin Colborne – Web Governance in Multi-nationals
Content Marketing
Amy Harrison – The Customer Disconnect: How Inside-Out Copy Makes You Invisible
Chelsea Blacker – ROI Measurement in Content Marketing
Sam Charles – Blogging advice that'll make your job easier – guaranteed!
Analytics
Tim Stewart – Convert with Intelligent Analytics
Lunch Keynote
Crispin Sheridan & Seth Besmertnik – Is Your SEO Getting Enough Credit? Build an Attribution Model that Works for You
E-commerce
Emily Mace – Technical SEO for Ecommerce at home and abroad
Samuel Dean & Vlassios Rizopoulos – What we have learnt from indexing over half a Billion products
Ann Stanley – Top tips for using Google Shopping ads
Technical SEO
Peter Nikolow – Quick and Dirty Server-side tweaks to improve your SEO
Dominic Woodman – Advanced Site Architecture – Testing architecture & keyword/page groupings
Dawn Anderson – Generational Cruft in SEO. There is Never a 'New Site' When There's History
Email Marketing
Philip Storey – How to revolutionise your customer lifecycle with email marketing
Chatbots
Hannah Jane Giles – The distinct SEO advantage: messaging apps and bots
Emilie Reynaud – What I have learnt from launching a chatbot
Jonathan Seal – Creating more human experiences with chatbots
Paid Social
Duane Brown – Video: The Next Frontier in Marketing
Susan Wenograd – Facebook Ads: Turning on the Faucet Without Drowning
Matt Beswick – Ridiculous to Sublime Paid Social: The story of the million dollar dog
Link Building
Fili Wiese – Linkbuilding 2018
Dixon Jones – Creating Workflows for Link Building
Greg Gifford – Righteous Tips for Building Totally Excellent Local Links
Content Strategy
Jade Tolley – Hub, Hygiene and Hero: The Three Content Types You Need
Laura Hampton – Kick-Ass Strategies for a Customer Focused Content Plan
Alan Cairns – The shortcomings of data for content strategy
Video
Jonathan Pascoe – What short form content means to ITN Productions
Sam Hanni – The Youtube Potential: Why marketers are losing money from ignoring YouTube as a traffic source
Onsite Content
Jes Stiles – Marketing in 360 degrees: Photos, Videos and VR
Rebecca Brown – Why you Should Scrap your "Content" Budget Line
Jon Myers – Links, Log Files, GSC and everything in between
Strategy
Olga Andrienko – Agile marketing: A step-by-step guide
Andi Jarvis – The 7 questions you need to ask before you start digital marketing
Chris Simmance – What makes a good SEO strategy?
Crawl & Indexation
Chris Green – Robots: X, Meta & TXT – The Snog, Marry & Avoid of the Web Crawling World
François Goube – How to optimise your Crawl budget?
Cindy Krum – Understanding the Impact of Mobile-First Indexing
Market Place Optimisation
Darren Ratcliffe – Getting a competitive advantage on ebay
Prabhat Shah – Amazon Sponsored Ads – Beyond Basics
CJ Rosenbaum – Avoiding and Recovering Marketplace from Suspensions
AMP
Aleyda Solis – Setting AMP for Success
Jon Henshaw – Forget AMP – Make Fast Sites!
Danni Lapham – R-AMP Up Your Mobile Content – The Accelerated Mobile Pages Roadmap
Outreach
Marcelle Antunes – How to produce creative campaigns worthy of BBC coverage.
Hana Bednarova – The missing link – How make sure Journalists include links in their coverage
Simon Brisk – How you can use automation to personalise outreach?
Social
Luke Knight – Does the Trump card always work on Social Media?
Allegra Chapman – Measuring the ROI of Social Media Marketing
Hannah Dempsey – Broadening your social listening beyond your brand